"Your Now
A Sailor On A Concrete Sea"



Your ocean is four lanes wide,
Your waves are mountain high.
You sail a fourty-ton schooner,
With the will of do or die.

And your cargo must go through,
to the port that waits for us.
Cause you live on luck,
For you drive a truck,
Your a sailor on a concrete sea.

So here's to the unsung hero,
thou they don't make history.
From coast to coast,
Let's drink a toast,
To the Sailors on the Conrete Sea.

Please remember...
Where ever you "live",
What ever you "wear",
What ever you "eat",
What ever you "drive",
and where ever you "sleep"...

Do us a small favor,
Before you go to bed at night,
Say a small prayer for a trucker.
Because without them,
You would have nothing.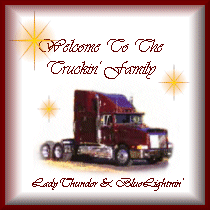 Keep the Shiny Side Up, and the Rubber on the Ground!
May all your travels be safe ones...
*huggers*
LadyThunder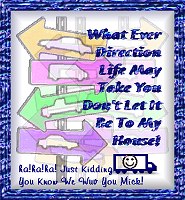 HaHaHa!!
Teresa sends Love and Hugs!