You know what?
You're gonna need a CB handle.
I vote for "Shorty" or maybe "Tiny"!

| | | |
| --- | --- | --- |
| I won't call Sharon names anymore! | | Yes I will cuz' I'm MEAN! And she can't catch me! |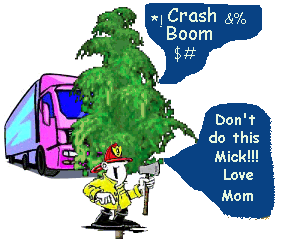 Words of encouragement
from your mom! HaHa!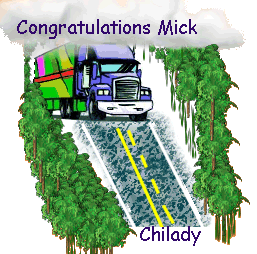 Happy Trails Again!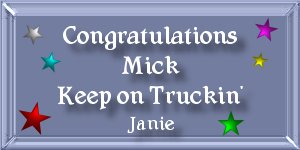 After that little fender
bender at your mom's I think
I'll just hang out here with Janie!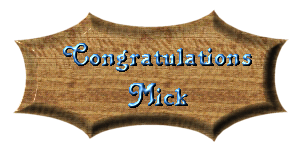 ooooo a sharp pointy thing!
What did you say my name was Mick?


Red always was one of
my favorite colors! I think maybe
I'll keep this truck!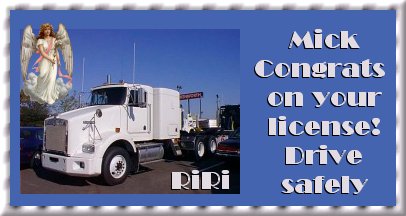 Never forget your friends, they are your roots to life,
and with the memories lost, you will just blow in the wind...
--Christopher Allen Weller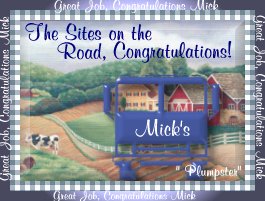 No cow tippin' Mick!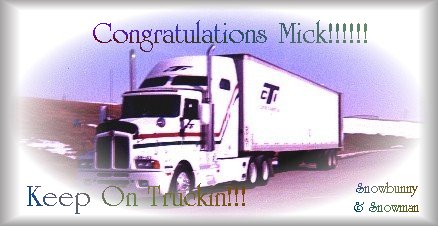 Snowbunny say's you can call on
her and her hubby any time!
They're in the trucking business too!

| | |
| --- | --- |
| | |
Candi must have read my mind!
I just happen to have a trucker babe
right here wanting a ride in your big rig!



Better grab her quick before she gets away!



Next stop this way!


"Big Wheels Rollin"
By Chet Atkins
| | |
| --- | --- |
| | |



Created April 16, 2000
All rights reserved©
by Mama Shirley's Girls
The truck graphic used to make this set
is the property of Trukart.com.
All rights reserved © by Trukart.